Rochester Public Schools
Dakota Middle School
Fresh Take
Funding for Dakota Middle School, which was named by community members, was approved in a recent referendum, along with dollars for three new elementary schools. LHB partnered with the firm CRW, to complete designs for all four buildings.
The 175,866 SF middle school structure is primarily load bearing precast exterior walls with an interior steel structure with precast plank elevated floors. We utilized a displacement ventilation mechanical system to provide 100% fresh air and eliminate the recirculation of contaminated air to occupants.
Design of the building started in early spring of 2020 and construction began January 2021.  LHB collaborated with Bolten & Menk for civil design, Meyer Borgman Johnson for structural design, and Rippe Associates for commercial kitchen design, while providing in-house architectural, interior design, mechanical, and electrical design.
Exterior Presence
Situated on the northwest edge of the current city development, the site offers vistas of farmland to the north and overlooks neighborhoods to the south. LHB helped from pre-referendum stages to determine an optimal location for the building to take advantage of existing development and natural surroundings. With the existing neighborhood across the street from the school, a tunnel will be added to 65th Street to separate pedestrians from vehicular traffic and connect the school to local bike trails. The exterior design strived to create a dramatic expression of entry using durable timeless materials.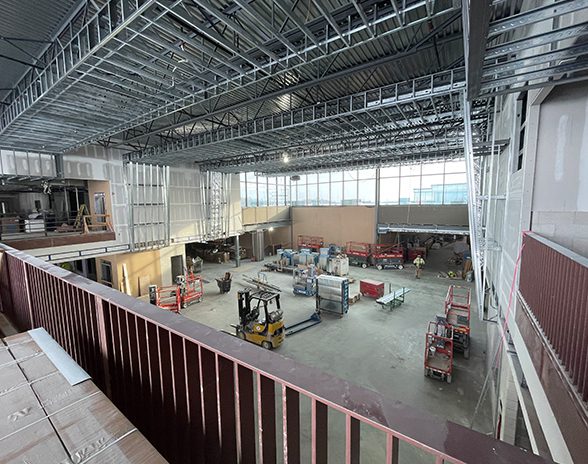 Interior Warmth
As you enter, you notice the materials from the exterior transition to the interior. Blending the line between inside and outside space. Providing ample natural daylight into commons and teaching spaces guided our decisions throughout the design process. Exposed edge maple plywood elements provide warmth to various spaces within the school. These plywood elements, used in multiple wall and ceiling applications, become a recognizable signature detail within the building.
Flexible Learning
The building was arranged to have 6 distinct learning areas each incorporated large group, small group and classrooms allowing for vertical separation by grade if desired or e/w school within a school approach or some other mix of student organization.
Community Kitchen
RPS utilizes their schools for community outreach and support of their constituents. The kitchen space here is intended for the community as an instructional space in nutrition and food preparation.
Looking for designers that listen? Meet our education team.