Experience in Projects that Serve the Public
Government needs vary widely when it comes to building and facilities design. Federal agencies, county boards, city managers, transit authorities, and branches of the military all have distinct project priorities—and standards. All prioritize safety and security; some focus on sustainability; and many spotlight technology. But whatever your desired results, you likely have something in common with other managers of government projects: you want the public's investment to be durable and cost-conscious. You want the end product to serve a wide range of users today, tomorrow, and beyond. You want a design partner who can deliver innovative solutions, weave in technical expertise, engage multiple owners and stakeholders, and meet key deadlines while staying on budget. Finding such a partner isn't easy. Which is why our clients seek us out again and again: LHB delivers what they need consistently, efficiently, and economically.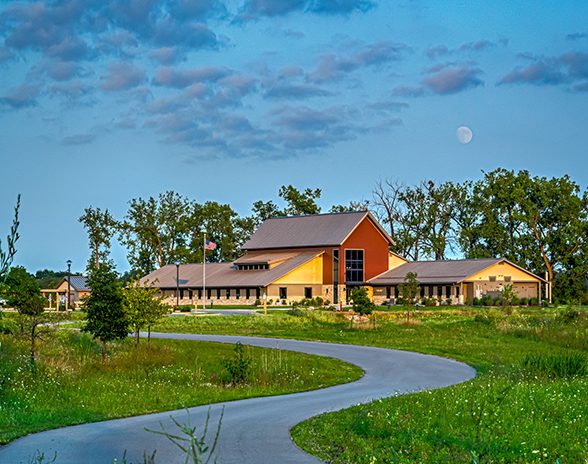 Sustainability-Focused
LHB's government portfolio includes numerous projects that showcase sustainable design. From daylight orientation, materials and energy efficiency, equity to environmental impact, we evaluate ways to improve operational performance from every angle.
Broad Experience
We are deeply familiar with design issues related to fleet maintenance, passenger transit, military base facilities, recreation centers, and environmental buildings. What's more, we know how to adhere to government-specific standards, ranging from antiterrorism design features to transit specifications. We also have experience guiding municipalities through bonding bill processes.
Cost-Conscious
Our extensive knowledge of square-footage costs shapes the programming scenarios we offer clients. Square-footage costs for a maintenance bay versus an executive board room can vary significantly, and knowing how usage affects expenses allows us to more accurately forecast the cost of your design. Plus, our value-analysis process ensures that we invest our clients' project funding in features that meet requirements and objectives.
Client-Centered
Our design approach is goal-focused, transparent, comprehensive, and based on our clients' values and needs.
Adaptable
Our portfolio includes projects of all shapes and sizes, from $10,000 in scope to $100 million.
Equity Conscious
Like our clients, LHB has set ambitious gender-equity goals. We understand the balance that our clients are trying to achieve.
Diverse Delivery
We are experienced with various project delivery methods, including Design-Build, Design-Bid-Build, Construction Manager at Risk, or Construction Management Agency.
Need design help? Click & Connect with Our Government Team
Aaron Kelly
Government Studio Leader
Cynthia Poirer
Government/Military Design Specialist