Safe, Smart Solutions for Roadway Design
Nearly every city and industry depends on transportation infrastructure to stay connected. We use roads to drive to work, bike to the park, walk the dog, and stroll the neighborhood. Streets are the backbone of our communities, and the decision-makers that commission them expect them to be safe and reliable, while also meeting the diverse needs of local communities. LHB's clients include private landowners, companies, townships, cities, counties, and state and federal agencies. From planning and design through construction administration, they count on our team to help them deliver results that meet their needs and requirements. Time and again, our work delivers: new clients become repeat customers, allowing us to build on our long tradition of excellence in road and highway design.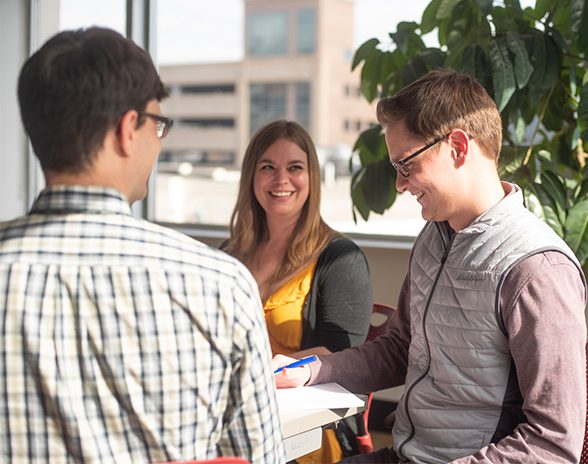 Project Continuity
LHB believes you should be served by a consistent and dedicated team. The LHB team you select for your project will work with you from beginning to end. You'll get quality service, clear communication, and responsive follow-up whenever you need it.
Regional Knowledge
We pride ourselves on our intimate knowledge of the communities our clients call home. We understand the impact that changes in transportation infrastructure can have, and we strive to deliver long-lasting results that meet ongoing needs. We believe safety always comes first, and we care deeply about the durability and impact of our infrastructure projects.
Dynamic Deliverables
We leverage technology in ways that make projects easy to comprehend. We provide high-quality renderings and visualizations that allow clients and communities to envision outcomes. We also help construction teams use the latest cost-saving technologies by creating 3-dimensional corridor models for automated delivery.
Fully
Dedicated
We want every client to be fully satisfied. We believe the best way to reach this goal is with dedicated service.
Adaptive
Design
LHB anticipates that things will change. The transportation infrastructure we design will stand the test of time.
Collaborative
Partners
We take an immersive, detail-oriented approach to our work. We view ourselves as an extension of your inhouse team—adding capacity and knowledge.
Useful
Connections
Our relationships with government agencies around the region mean we know how to find information when clients need answers and assistance.
Got a question? Click here to connect with a Roads & Highways Specialist
Matthew Settergren
Civil Engineering Manager – Public Works
He/Him/His