LHB Can Help
Districts and their communities have unique attributes. Leveraging those in your planning and design is what makes LHB special. We have worked with many districts in multiple states from small rural to large urban. Our team will apply that experience as additive value to what we learn about your district. We believe your facility planning can and should be directly supportive of your strategic plan and your district and communities at large. We believe every process involves identifying areas of improvement, wish lists, and goal-setting to ensure a full understanding of your needs, hopes, and dreams.
Engaging & Integrative Process
We engage with your staff, community, and students to fully understand your needs, the underlying drivers, and possible solutions. Our integrative process is based on engaging diverse viewpoints, within the district and community, including construction partners, early in the process to generate consensus and position the project for success.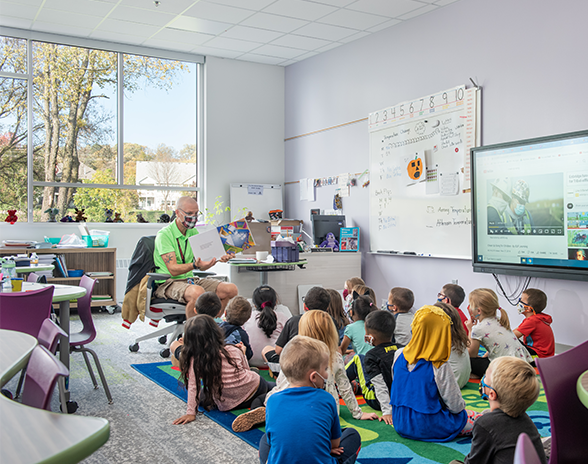 Learning Environment
Students are impacted by their environments, other students, and staff. Studies suggest cognitive skills including test results are improved by good daylighting, air quality, and acoustics, which increase level of awareness, add to engagement and retention, creating an ideal environment for learning and instruction. These high quality environments also reduce sick days for students and staff.
Facilities for All Learners
Creating flexible environments are critical to the success of your students, facilities, and district. LHB will incorporate technology and furniture discussions from the start. Creating spaces that support engagement and interaction of staff and students is important for social and intellectual growth. Multiple-sized spaces provide options for traditional instruction, project-based learning, one on one, and quiet introspective development.
Referendum/District Planning
LHB can assist you by hosting public meetings to gather input, and providing assessments, programming information, and graphics.
Energy & Facility Assessments
We look at the building systems, how they impact each other, and provide reports that recommend sequences or groups that leverage cost benefit analysis.
IEQ vs. IAQ
Indoor Environmental Quality includes Indoor Air Quality, plus daylighting, acoustics, and other elements that impact the desire to be within a space.
Safety & Security
Educational environments designed to include passive observation and invoke a feeling of safety and inclusion reduce undesired behavior.
Let Our Education Team Answer Your Questions. Click to Connect.