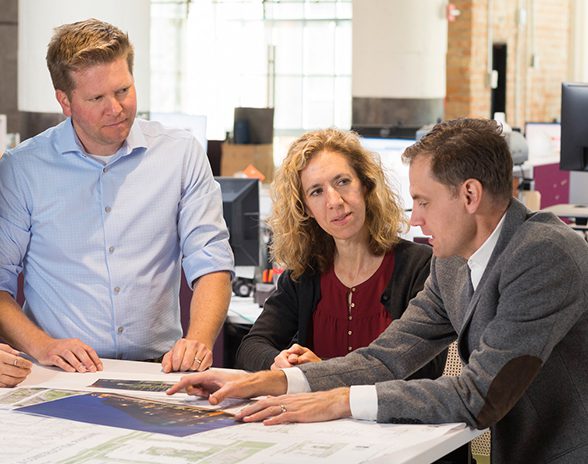 At the Forefront of Design for Our Changing World
LHB brings a wealth of experience in architecture, engineering, and planning to our partners throughout the country. We provide a wide range of service offerings and serve more than a dozen different markets. In every interaction, we are guided by our desire to making a lasting, positive impact on those around us. Our knowledge, approach, and professionalism allow us to forge strong relationships with our clients and communities.
2021 Firm Award Winner
In 2021, the American Institute of Architects' Minnesota chapter honored LHB with its biennial Firm Award for "outstanding contributions to the advancement of the profession of architecture." Jurors lauded:
• Our focus on sustainability
• The diversity of our projects
• Our role in creating affordable housing
• Our commitment to sharing knowledge across the profession
Bring your passion to the LHB team
Join our team of talented architects, engineers, planners, and support staff. We offer industry-leading benefits, a collaborative and friendly work environment, and opportunities to work on a wide range of projects in a diverse range of industries.
Sourcing Technical Talent
LHB Technical Staffing LLC supports clients with unique contract staffing needs, leveraging our deep connections and knowledge to find the right talent for every job. Our embedded workforce, working alongside clients but supported by LHB, provides a foundation for project success across a range of industries. Learn more at LHBTechStaff.com.